12": DJ Love vs. DJ chrizz-By Request E.P. - Goblins Records-gbs-007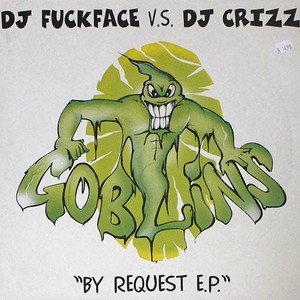 ---
House Tech House Deep House Disco Techno Trance Hard Trance Goa / Psy DJ Fuckface vs. DJ Chrizz - By Request E.P. Goblins Records - GBS-007 1 x Vinyl 12", EP, 33 ⅓ RPM - 1997 ::: Media Grading: Very Good (VG) / Sleeve Grading: Very Good (VG) - Comments: sleeve: small cut on open side
| | |
| --- | --- |
| Artist: | DJ Fuckface vs. DJ Chrizz |
| Title: | By Request E.P. |
| Label: | Goblins Records |
| Format: | 1 x Vinyl 12", EP, 33 ⅓ RPM |
| Catalog #: | GBS-007 |
| Country: | Netherlands |
| Release Date: | 1997 |
| Genre: | Hardcore, Gabber |
|   |   |
| Media Grading: | Very Good (VG) |
| Sleeve Grading: | Very Good (VG) |
Comments:
sleeve: small cut on open side
Tracklist:
| | | | |
| --- | --- | --- | --- |
| A1 | DJ Fuckface vs. DJ Chrizz | Suffer | 6:14 |
| A2 | DJ Fuckface | Ya Kiri | 4:41 |
| B1 | DJ Fuckface vs. DJ Chrizz | Drugs | 4:45 |
| B2 | DJ Fuckface | Mind-X-Pander | 4:37 |
 

ZustandConditionVersandShippingAbwicklungCheckout

Goldmine Standard - entspricht dem Standard von CD-und Schallplattensammlern auf der ganzen WeltGeneric / Neutral: Neutrales Sleeve (meist schwarz oder weisses Lochcover)Mint (M): Absolut perfekt - NEU - mit Sicherheit nie gespielt und ist möglicherweise noch versiegelt. Near Mint (NM): Eine fast perfekte Schallplatte. Neuwertig. Die Schallplatte zeigt keinerlei Gebrauchsspuren. Eine Single Hülle darf wirklich nur minimalste Gebrauchsspuren haben und eine Lp Hülle darf keine abgestossenen Ecken, Falten oder ähnliche Mängel vorweisen. Gleiches gilt für Beilagen wie Poster, Textblätter oder ähnliches. Very Good+ (VG+): Hat erkennbare Gebrauchspuren, wurde aber vom Vorbesitzer gut gepflegt. Die Plattenoberfläche kann minimale Abnutzungserscheinungen (durch Abspielen), die aber den Hörgenuss nicht beeinträchtigen, vorweisen. Leichte Wölbungen die das Abspielen nicht beeinträchtigen sind in Ordnung. Das Label darf leichte (nicht wirklich auffällige) Verfärbungen haben. Das Mittelloch sollte nicht geweitet sein. Single-Bild-Hüllen und Lp-Innenhüllen dürfen leichte Gebrauchsspuren haben. Lp Album-Hüllen dürfen leichte Gebrauchspuren haben und auch ein cut-out Loch ist vertretbar. Im grossen und ganzen, ist eine very good+ Schallplatte für fast alle Sammler ein sehr guter und sammlungswürdiger Zustand. Very Good (VG): Viele der Mängel einer VG+ Platte, treten hier verstärkt auf. Leichtes Rauschen kann beim Abspielen auftreten, besonders in ruhigen Passagen und während des Intros, welches die Musik aber nicht 'überpowert'. Leichte Rillenabnutzung kann vorhanden sein ebenso wie leichte Kratzer (welche man mit dem Fingernagel spüren kann) die man auch beim Abspielen hören kann. Auf den Labels können Mängel wie Aufkleber oder Beschriftungen auftauchen. Das gleiche gilt auch für LP Albumcover und auch Single Picturehüllen. Good (G) und Good+ (G+): Good heisst nicht schlecht! Eine Platte im Zustand Good "kann" ohne hängenzubleiben durchlaufen, Sie wird beträchtliches Rauschen haben, einige Kratzer und deutlich sichtbare Abnutzungserscheinungen. Album Cover und Single Picturehüllen sind aufgestossen und haben geknickte Ecken. Aufkleber, Beschriftungen und ähnliches breiten sich auf demselbigen aus. Wenn es nicht wirklich rar ist, wartet man lieber auf einen besseren Zustand - wenn man aber schon ewig danach sucht und der Preis stimmt sollte man die Chance nutzen.Kürzel:

WoL = beschriftete(s) Label(s)WoC = beschriftete(s) Cover(s)SoL = sticker(s) auf Label(s)SoC = sticker(s) auf Cover(s)

Goldmine Standard - meets the standard of CD and vinyl record collectors around the world. Generic / Neutral : Neutral sleeve (almost black or white colored) Mint (M) : Absolutely perfect in every way. NEW. Certainly never been played, possibly even still sealed. Near Mint (NM): A nearly perfect record. Many dealers do not want to give a grade higher than this implying. The record should show no signs of wear. A 45 RPM or EP sleeve should have no more than the most minor defects, such as almost invisible ring wear or other signs of slight handling. An LP cover should have no gaps, folds, seam splits or other noticeable similar defects. No cut-out holes, either. And of course, the same should be true of any other inserts, such as posters, lyric sleeves and the like. Basically, on LP in near mint condition looks as if you just got it from a new record store and removed the shrink wrap. Near Mint is the highest price listed in all Goldmine price guides. Anything that wonders this grade, in the opinion of both buyer and seller,Very Good+ (VG+): Generally worth 50 percent of the near mint value. A Very Good Plus record will show some signs that it has been played and otherwise handled. Record surfaces may show some signs of wear and may have slight scuffs or very light scratches. Slight warps that do not affect the sound are "OK". The label may have some ring wear or discoloration, but it should be barely noticeable. The center hole will not have been misshapen by repeated play. Picture sleeves and LP inner sleeves will have some slight wear, lightly turned up corners, or a slight seam split. An LP cover may have slight signs of wear and may be marred by a cut-out hole, indentation or corner. In general, if not for a couple things wrong with it, this would be near mint. All but the most mint-crazy collectors want to find a very good record highly acceptable.Very Good (VG) : Generally worth 25 percent of Near Mint value. VG + record wants to be more pronounced in a VG disc. Surface noise will be evident upon playing, especially in soft passages and during a song's intro and fade, but will not overpower the music otherwise. Groove wear wants to start to be noticeable, as with light scratches that will affect the sound. Good (G) and Good+ (G+): Generally worth 10-15 percent of the near mint value. Good does not mean bath! A record in good or good condition can play through without skipping. It wants to have significant surface noise and scratches and visible groove wear (on a styrene record, the groove wants to start to turn white). A cover or sleeve wants to have seam splits, especially at the bottom or on the spine. Tape, writing, ring wear or other defects wants to start to overwhelm the object. It is a common item, you'll probably find another copy in better shape eventually. Pass it up. But, if it's something you've been looking for for years, and it's just right, get it ... but keep looking at upgrade. Shorthand symbols : WoL = written / writting on Label (s) WoC = written / writting on Cover (s)SoL = sticker (s) on Label (s) SoC = sticker (s) on Cover (s)

Deutschland :CDs1 - 30000g = 5.90Euro Vinyl 7"1 - 30000g = 5.90Euro Vinyl 10"1 - 30000g = 5.90Euro Vinyl 12"1 - 30000g = 5.90Euroder Versand erfolgt als Paket mit Sendungsverfolgung!

European Union - EU :001g to 400g = 5.90Euro 401g to 800g = 9.90Euro registered shipping: + 3.00Euro 801g up to 30.000g = 15.90Euro (automatically registered shipping) Rest of World - ROW :001g to 400g = 5.50Euro 401g to 800g = 8.50Euro 801g to 1800g = 18.50Euro registered shipping: + 3.00Euro 1801g up to 5000g = 39.90Euro (automatically registered shipping) 5001g up to 10000g = 59.90Euro (automatically registered shipping) 10001g up to 20000g = 79.90Euro (automatically registered shipping) 2000g up to 30000g = 110.90Euro (automatically registered shipping) weight of each format :7"= 60g10"= 135g 12" = 230g CD = 85g our packing material = 100g

Wenn Sie alle gewünschten Artikel im Warenkorb haben, sehen Sie, dass ab dem 2ten Artikel der Versand kostenlos aufgeführt wird.Wenn Sie alle gewünschten Artikel im Warenkorb haben, können Sie den Kauf dann mit einmaligen Versandkosten abschließen.

To buy multiple items, add to cart without checking out. Click 'Request Total From Seller' and we will send you a full invoice with combined shipping costs.Please check our international shipping costs .
Versand
Wir bieten folgende Versanddienstleister an:
Zahlungsarten
Wir bieten folgende Zahlungsarten an:
Kundenservice
Bei Fragenzu unserem -Angebotoder für bereits getätigte -Käufe,verwenden Sie bitte in den jeweiligen Produktübersichten das:Verkäufer kontaktierenDanke vielmals!